Press release
Foreign Secretary statement on UN chemical weapons report
Foreign Secretary statement on UN chemical weapons report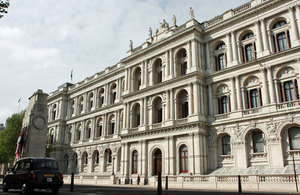 The Foreign Secretary, Boris Johnson, said:
This independent investigation has concluded that the Asad regime has used chemical weapons against the Syrian people on at least three occasions, and that Daesh has used such weapons at least once. The attacks in Qamenas, Sarmin and Talamenes demonstrate the cruel barbarity of the Asad regime in this conflict. The use of chemical weapons by Daesh in Marea shows their complete disregard for human rights, and international norms and values. This report makes clear that the Asad regime has consistently failed to co-operate with the investigation.

The use of chemical weapons is horrific, and a breach of international law and UN Security Council resolutions. It is crucial to hold those responsible to account.

The regime and its backers, notably Russia, are inflicting the worst bombardment seen yet on Aleppo and other towns and areas in Syria, causing severe humanitarian suffering. We are seeing heartbreaking scenes. The UK will continue to work with the international community to pursue an end to the regime's indiscriminate bombing campaign, full and sustained humanitarian access, an immediate and lasting ceasefire, and a return to the negotiating table.
Further information
Published 22 October 2016