Foreign Secretary statement on the 10th anniversary of the 9/11 attacks
Foreign Secretary William Hague has commemorated the victims of the terrorist attacks in the United States on 11 September 2001, and of other global acts of terrorism since.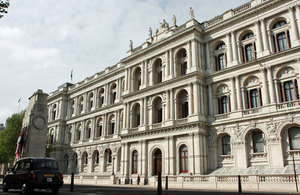 Speaking today, the Foreign Secretary William Hague said:
"Today we commemorate the citizens of the United States and over 90 countries who perished in the terrorist attacks on 11 September 2001, including 67 British nationals. We remember the courage and dignity of the American people in the face of such appalling loss. And we also recall the victims of other global acts of terrorism since - including the attacks in London in 2005. Such attacks have only served to bring the international community closer together, and to bolster those who seek change through peaceful means, not through barbaric violence."
"In the decade since the 2001 attacks on the United States, terrorists have succeeded only in the murder of innocents, often from among those they claim to represent. Al Qaeda is now weaker than at any time in the decade since 9/11 - and political progress through peaceful protest in the Middle East and North Africa has shown it to be increasingly irrelevant to the future. The true expression of what people in the Muslim world aspire to was seen not at Ground Zero in 2001, but in squares and streets across the Middle East and North Africa this year. So while we remember the victims of 9/11, stand firm with our allies and remain tirelessly vigilant against future threats, we also face the future with confidence in our values and faith in human nature".
Published 11 September 2011