Press release
Foreign Secretary statement on Libya
Foreign Secretary Philip Hammond welcomes arrival of Prime Minister Fayez Serraj and members of the Presidency Council to Tripoli.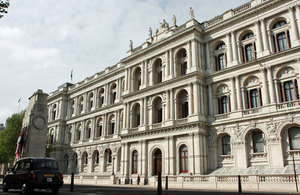 The Foreign Secretary Philip Hammond said:
The arrival of the Presidency Council in the capital of Libya is an important step towards the establishment of an effective Government of National Accord to heal the divisions in Libya and bring peace and security to the Libyan people. We stand ready to respond positively to requests for support and assistance from the GNA to help them restore stability to Libya, rebuild the economy, fight Daesh and tackle the criminal gangs that threaten the security of Libyans and exploit illegal migrants.

I call on the Libyan people to give this Government of National Accord their full backing to help them deal effectively with the many challenges they face.
Further information
Published 30 March 2016