Press release
Foreign Secretary's statement on Kurdish referendum
Foreign Secretary Boris Johnson comments on the Kurdish referendum.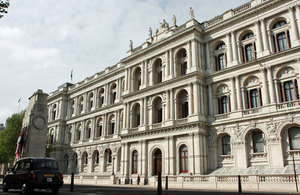 Commenting on the referendum being held in the Kurdish Region of Iraq, Foreign Secretary Boris Johnson said:
The UK does not support this referendum and continues to back the sovereignty and territorial integrity of Iraq. We believe that any referendum should be agreed with the Government of Iraq.

With our international allies, we proposed an alternative plan which would have seen negotiations take place between the Government of Iraq and the Kurdistan Regional Government to address all issues of dispute. This alternative would have given the opportunity for the aspirations of the Kurdish people to be met. It is regrettable that a part of the Kurdish leadership rejected the proposal.

The long-term security and prosperity of Iraq and Iraqis can only be met through dialogue and cooperation. I urge all sides to refrain from provocative statements and actions in the aftermath of the referendum. The priority must remain the defeat of Daesh and returning stability to liberated areas.
Further information
Published 25 September 2017