Foreign Secretary statement on Khan al-Ahmar
Foreign Secretary Boris Johnson calls on Israel to reconsider proposals to demolish the Bedouin village of Khan al-Ahmar and plans to construct over 3,000 settlement units in the West Bank.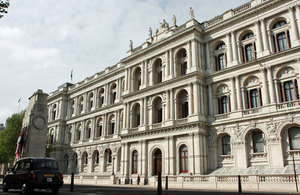 The Foreign Secretary, Boris Johnson said:
I am deeply concerned by the proposed demolition of the village of Khan al-Ahmar. Palestinians have found it virtually impossible to obtain building permits in Area C of the West Bank, an unacceptable situation that leaves them with little option except to build without permission.

About 180 people, including some who have lived in Khan al-Ahmar for over 60 years, face the prospect of losing their homes and livelihoods. I am particularly concerned by the pending demolition of the village's school, which serves 170 children including from neighbouring communities. The UN has said that the proposed demolitions could amount to "forcible transfer", in violation of International Humanitarian Law. The British Government has consistently urged Israel not to proceed and I repeat that call today.

I am also gravely concerned by plans to construct over 3,100 new settlement units. Many are located deep within the West Bank; one is a site beside Khan al-Ahmar. Settlement activity is contrary to international law, promotes the de facto annexation of the West Bank, and takes us further away from a negotiated two-state solution.
Further information
Published 1 June 2018