Press release
Foreign Secretary speech: Preventing sexual violence in Sri Lanka
The Foreign Secretary gave a speech on preventing sexual violence and urged Sri Lanka to end the culture of impunity.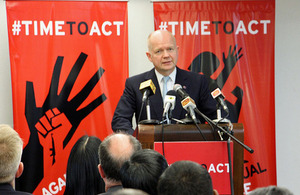 Today the Foreign Secretary met civil society groups in Sri Lanka to discuss what can be done to end the culture of sexual violence in the country. He also gave a speech about why this horrific abuse must be stopped globally and why members of the Commonwealth, including Sri Lanka, have a responsibility to take action.
International human rights organisations have said that there are credible allegations of sexual violence by Sri Lankan security forces both during and after the war, including as a means of torturing detainees in custody both during and after the conflict. Sri Lankan campaigners also have spoken about the significant problem of sexual harassment and violence against women and children across the country.
The Foreign Secretary is leading international efforts to stop sexual abuse of women, men and children during conflict through the Preventing Sexual Violence in Conflict initiative. The UK is urging the Sri Lankan government, and other Commonwealth countries, to join the 134 countries that have signed the UN Declaration of Commitment to end Sexual Violence in Conflict. The Foreign Secretary gave his speech to an audience of civil society groups, members of the Sri Lankan Government, campaigners and the media.
The Foreign Secretary said:
Dealing with the legacy of sexual violence, bringing those responsible to justice, and helping the survivors to rebuild their lives with dignity is absolutely critical to reconciliation and long-term stability here in Sri Lanka as it has been in conflicts around the world.

Since the end of the war in 2009 there has been progress which we welcome: civilians have been re-settled, infrastructure re-built, land mines removed, provincial elections held in the North, and many former Tamil combatants reintegrated back into Sri Lankan society. A region once cut off from the rest of the country, and the world, is now reconnected to it. But to date, nobody has been held to account for crimes of sexual violence.

The allegations include reports from the UN Panel of Experts that rape was used by Government forces during the final stages of the conflict and before; claims from Human Rights Watch that sexual torture has been used to extract confessions; and continued concerns over the vulnerability of women and girls to sexual harassment and abuse, particularly the 90,000 Sri Lankan war widows living in areas with a large military presence.

I will be urging the Sri Lankan Government to investigate these cases as they deserve. That means carrying out credible and independent investigations, but it also means providing greater support to victims and passing strong witness protection legislation, so that justice is not undermined by social stigma and intimidation.

The British Government, along with other members of the international community, has consistently called for an independent, thorough and credible investigation into allegations of violations and abuses of international humanitarian and human rights law by both sides in the conflict. In the absence of an independent investigation, pressure will mount for an international investigation including from the United Kingdom.

We want to help Sri Lanka in any way that we can. We have already funded projects to establish a helpline for victims of domestic abuse, to increase police support for women and children, and to train the local media in investigative techniques that will help them shine a light on this issue. But we are ready to widen this assistance and deepen our cooperation further. And we would also like to see Sri Lanka join our international campaign to end sexual violence globally, which is making encouraging progress worldwide.
Further information:
Follow the Preventing Sexual Violence in Conflict campaign on twitter: #timetoact
Find out more about the UK's Preventing Sexual Violence Initiative
The UN Secretary General's Panel of Expert's Report on the Sri Lankan conflict noted reports of sexual violence and rape by members of government forces and associated paramilitaries during and in the aftermath of the final phases of the armed conflict. The report noted that rape and sexual violence against Tamil women was under-reported.
A recent Human Rights Watch report 75 cases of sexual violence in custody.
UN High Commissioner for Human Rights, Navi Pillay, recently raised concerns over the vulnerability of women and girls, especially in female-headed households in the north, to sexual harassment and abuse.
An average rape case in Sri Lanka takes 6 to 12 years to be resolved.
There is widespread domestic violence in Sri Lanka, with a recent UN survey showing that 20 per cent of men in relationships admitted to sexually abusing their partner. Marital rape is not a crime in Sri Lanka.
Read more about the Commonwealth Heads of Government Meeting in Sri Lanka.
Follow the Foreign Secretary on twitter @WilliamJHague
Follow the Foreign Office on twitter @foreignoffice
Follow the Foreign Office on facebook and Google+
Published 13 November 2013