Foreign Secretary speaks to Saif Qadhafi
Foreign Secretary William Hague has spoken to the Head of the Qadhafi Human Rights Society about the situation in Libya.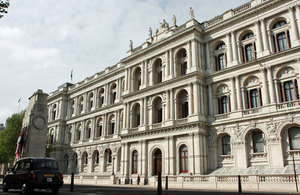 A Foreign Office spokesperson said:
"The Foreign Secretary spoke today with Saif Qadhafi, son of Colonel Qadhafi and the Head of the Qadhafi Human Rights Society, about the deteriorating situation in Libya. The Foreign Secretary made clear the UK's grave concern at the escalation in violence. He expressed alarm at reports of large numbers of people being killed or attacked by Libyan security forces. The Foreign Secretary told Mr Qadhafi that the Libyan Government's actions were unacceptable and would result in world-wide condemnation. The Foreign Secretary strongly encouraged the Libyan government to embark on dialogue and implement reforms.
"We will continue to monitor the situation in Libya and reflect this in our travel advice, which has been updated today to recommend against all but essential travel to Libya. All those British Nationals without a pressing need to remain in the country should leave by commercial means if it is safe to do so. The British Embassy in Libya is in contact with the British Community through our consular warden network and is providing consular assistance and advice."
Published 20 February 2011