Foreign Secretary speaks to General Abdul Fattah Younis al Obidi
Foreign Secretary William Hague discussed the latest situation on the ground in Libya, the impact on Libyans and the provision of international humanitarian assistance to Libya.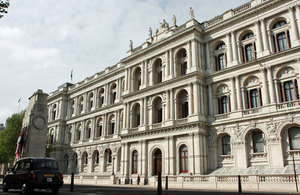 General Obidi asked the Foreign Secretary about planning for a No-Fly Zone. The Foreign Secretary said that the UK was deeply concerned about the violence and was in the process of contingency planning for all eventualities, including a No-Fly Zone, in close conjunction with its allies.
General Obidi is former Libyan Interior Minister and Head of Special Forces and currently the senior military figure in the opposition group exercising control over Benghazi. The Foreign Secretary's telephone conversation forms part of the British government's efforts to contact opposition figures. This work is being managed by the Ambassador to Tripoli and his staff, currently based in the Foreign and Commonwealth Office.
Published 2 March 2011