Press release
Foreign Secretary signs UK-Canada joint declaration
Foreign Secretary Philip Hammond met Canadian Foreign Affairs Minister Rob Nicholson in Toronto today to renew the UK-Canada Joint Declaration.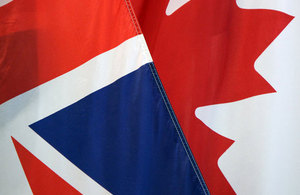 They also discussed security issues such as their mutual and steadfast support of Ukraine, the long-term strategy to assist the Government of Iraq in combating ISIL and the importance of NATO.
Speaking today Foreign Secretary Philip Hammond said:
Canada and the UK have a strong relationship built on shared history and common values and I am pleased to be in Canada today to endorse this renewed joint declaration.

We continue to work together on global challenges including the generational struggle against Islamist extremism. Both London and Ottawa have been victims of terrible attacks. The UK and Canada, together with the global coalition, will degrade and ultimately defeat ISIL and all of its poisonous ideology. I welcome Prime Minister Harper's announcement this week of his intention that Canadian forces will extend their air operations into Syria.

We have both been vocal in criticising Russian aggression against Ukraine and we have made clear that as long as the blatant violations of Ukraine's sovereignty and territorial integrity continue, we will maintain the pressure on Russia. We must remain strong, determined and united on sanctions until all of the Minsk Agreement conditions have been fully implemented.
We will also continue to work side by side in the fight against Ebola. Canada has committed more than CAN$113 million to the Ebola response to date, and UK and Canadian military personnel are working together at the Kerry Town treatment centre in Sierra Leone to care for those affected by the disease and end the epidemic.
Further information
Follow the Foreign Secretary on twitter @PHammondMP
Follow the Foreign Office on twitter @foreignoffice
Follow the Foreign Office on facebook and Google+
Published 27 March 2015