Press release
Foreign Secretary remarks to media on Ukraine
Foreign Secretary William Hague spoke on the situation in Ukraine following his talks with US Secretary of State John Kerry.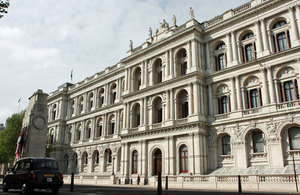 Speaking to journalists outside State Department, the Foreign Secretary said:
I've had very good talks with Secretary Kerry on a wide range of subjects, but of course the situation in Ukraine has been absolutely top of the agenda. The United States and the United Kingdom see this in exactly the same way, our fundamental interest is in a free, democratic Ukraine, with free institutions, so the people of Ukraine can make their decisions about their future.

We discussed the urgent need for financial support for Ukraine; I'll also have meetings with the International Monetary Fund here in Washington tomorrow about that. And it is important for economic reform to take place; for the pervasive culture of corruption over many years to be tackled effectively; for the international community to be able to see that there will be continuity in the determination to tackle these issues; and that therefore long term international support can be given on a reasonable basis.

And of course we encourage the new leaders in Ukraine to form an inclusive government, one that can command a new political consensus in that country. And we don't see this, in the US and the UK, in a zero-sum strategic sense. It is very important for Ukraine to be able to work closely with European nations, and the European Union, in good economic cooperation, but also of course to be able to cooperate with Russia on many issues. So Secretary Kerry and I have both been talking to Foreign Minister Lavrov over recent days, and we will continue that contact with Russia as well as working with the Ukrainians on this 'extraordinary transition', as Secretary Kerry called it earlier, that is now taking place.
Further information
Follow the Foreign Secretary on twitter @WilliamJHague
Follow the Foreign Office on twitter @foreignoffice
Follow the Foreign Office on facebook and Google+
Published 25 February 2014