Foreign Secretary promises long-term UK commitment to Brazil
The UK Government prizes its friendship with Brazil and is determined to develop it further. This was the message delivered by Foreign Secretary William Hague as he began his first official visit to Latin America today.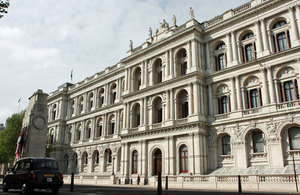 As active players on international issues such as organised crime and counter-terrorism, the UK and Brazil frequently work together on challenges that face them.
It is in this spirit and for this reason that the UK supports Brazil's aspiration for a permanent seat on a reformed Security Council, as a strong global partner in maintaining international peace and security.
He said:
"The UK - Brazil partnership is founded on excellent cooperation in education, business, climate change, culture and much more. We promised to escalate our relationship with Brazil this past year, and we have, with more high-level visits, a new Consulate General in Recife and new partnerships being forged.
"In 2012 we will be sharing the international stage, with the Rio +20 climate change conference, London Olympic and Paralympic Games and then as we pass the torch to Brazil in September. I am pleased to be making my first official visit at such a time.
"The fact that we are increasing our resources here when spending overall is decreasing illustrates the value that we attribute to our relationships in Brazil and, indeed, the wider region. We are determined to see this continue in the months and years ahead."
While in Brasilia, the Foreign Secretary is due to meet Foreign Minister Antonio Patriota and Defence Minister Celso Amorim to discuss UK cooperation with Brazil in a range of fields, from Olympic preparation to development projects in Africa.
The UK and Brazil already work closely together, such pushing for an ambitious deal at the Durban climate change conference, within the G20 on the global economic crisis, and for the last two years on the Arab Spring and other challenges on the UN Security Council.
In May 2011, the Government committed to more frontline staff in Brazil, to cover areas as diverse as trade, science and cultural ties. In November Foreign Office Minister Jeremy Browne opened a new Consulate General in the north-east city of Recife, one of the fastest growing regions in Brazil.
Whilst in Brazil, the Foreign Secretary will be meeting representatives of British companies based there and hearing about the opportunities for investment. Brazil is a large and dynamic market, which is already looking to UK expertise for the next stage of its development. The UK now has a target in place to double UK exports by 2015 which, although ambitious, is already on track to be achieved.
Strengthening relations with Emerging Powers, particularly Brazil, is a foreign policy priority for the UK Government. It is essential for the UK's continued prosperity and security as the balance of power in the world shifts.
As Brazil develops, the opportunities for cooperation grow, and many of the UK's strengths match demand in Brazil, for example in education, science and innovation, creative industries and financial services. As 2012 continues, the UK will be looking to build on these strengths for the benefit of both countries.
Published 18 January 2012