Press release
Foreign Secretary pledges UK support for Afghanistan on his first visit to the country
Foreign Secretary Boris Johnson has hailed Britain's "vital contribution" to defending and improving Afghanistan on his first ever visit to the country.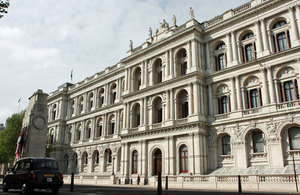 Foreign Secretary Boris Johnson has hailed Britain's "vital contribution" to defending and improving Afghanistan on his first ever visit to the country.
On a one day visit to Kabul, Mr Johnson held meetings with President Ashraf Ghani and Chief Executive Abdullah Abdullah, in which he reaffirmed the UK's commitment to Afghanistan's stability and prosperity and discussed the Afghan Government's reform plans.
The Foreign Secretary also witnessed the work Britain is doing to train Afghan security forces and tackle terrorism and UK projects promoting education and women's rights. He visited the Afghan National Army Officer Academy to meet British military trainers, and Kabul University where the British Council is supporting education and cultural projects.
Mr Johnson also went to the British Cemetery in Kabul to pay his personal tribute at a memorial to the 456 UK servicemen and women who lost their lives in Afghanistan since 2001.
The Foreign Secretary said:
Afghanistan is an amazing country and I'm incredibly proud of the work that the UK is doing here to challenge extremism and terrorism, promote democracy and human rights and support the Afghan Government's reform plans.

British Military trainers are improving the ability of the Afghan military to stabilise the country and respond to extremism, and our development works means girls are defying extremists by going to school and university. Our work also means that terrorism is increasingly tackled at source.

Hundreds of British men and women continue to work here for noble reasons, in often highly dangerous circumstances, and we continue to owe them a huge debt of gratitude for the vital contribution that they are making.
This visit to Afghanistan followed the Foreign Secretary's visit to Islamabad. In both capitals, the Foreign Secretary encouraged constructive regional cooperation, to tackle both the short term response to significant numbers of returnees to Afghanistan, but also in the long-term, to bring about the vital development and security needed in the region.
Notes to Editors
Footage and photographs will be available from Reuters.
At the Brussels Conference in October 2016, the UK pledged £750 million in development assistance programmes to Afghanistan, over the next four years. This support is intended to help the Afghan Government create jobs, generate private sector investment, boost health and education services, strengthen infrastructure and government systems, provide humanitarian assistance and clear mines.
The UK has committed an extra £15m in 2016 in humanitarian assistance to help meet the immediate needs of Afghans returning from Pakistan and those displaced within the country. The assistance will provide shelter, food, medicine and cash to help returnees meet their urgent and life-saving needs.
At the NATO Summit in Warsaw in July, NATO committed to sustain the Resolute Support Mission beyond 2016, to continue to deliver training, advice and assistance to the ANDSF. As part of this, the UK announced an uplift so that throughout 2017 we will have around 500 military personnel in non-combat roles here as part of our enduring commitment to Afghanistan.
Further information
Published 26 November 2016