Press release
Foreign Secretary pledges support for Syrian Opposition
Foreign Secretary meets President of the Syrian National Coalition Ahmad Al-Jarba and reiterates UK support.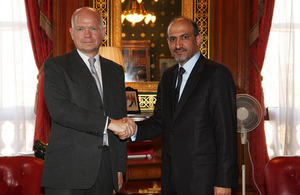 The Foreign Secretary William Hague today underlined UK support for the Syrian Opposition and UK commitment to a political solution to end the bloodshed in Syria, in a meeting with the President of the Syrian National Coalition of Opposition and Revolutionary Forces, Ahmad Al-Jarba.
Speaking after the meeting, the Foreign Secretary said:
President Al-Jarba and the people of Syria should be in no doubt that the UK stands fully behind the Syrian National opposition – the sole legitimate representatives of the Syrian people. They are the best possible hope for a political solution to the crisis and for a future Syria which is stable and democratic.

The UK will continue to lead international efforts to provide humanitarian assistance to the now two million refugees who have fled Syria and the four million who have been forced from their homes. We are working closely with the moderate opposition to alleviate this appalling suffering and to provide practical and political support.

During our meeting today, I condemned the abhorrent attack on 21 August and reiterated the UK's absolute opposition to any use of chemical weapons. I confirmed the UK's package of chemical weapons protective equipment, which includes 5000 escape hoods, had been delivered to the Syrian opposition. We also discussed ways the UK could provide further non-lethal support to the opposition to help save lives and alleviate humanitarian suffering. The UK will continue to support the Assistance Coordination Unit to deliver help to Syrians suffering in dire need.

The UK's priority remains a political solution to the crisis in Syria. Achieving lasting peace in Syria will require a government that represents the needs and concerns of all the Syrian people. The UK is working closely with international partners and the National Coalition to help make this a reality.
Further information
Read the latest updates on UK aid to Syria
Follow the Foreign Secretary on twitter @WilliamJHague
Follow the Foreign Office on twitter @foreignoffice
Follow the Foreign Office on facebook and Google+
Published 5 September 2013