Press release
Foreign Secretary opens UK funded reconciliation centre
Sri Lankan reconciliation centre offers hope after civil war and encourages young people across Sri Lanka to help build peace and reconciliation.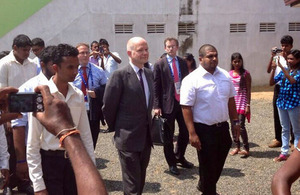 Today, the Foreign Secretary, William Hague, opened a new reconciliation centre in Matara, southern Sri Lanka, which was funded by the UK. The centre is run by Sri Lanka Unites (SLU) – a non-political youth movement which helps young people lead the way in consolidating peace in Sri Lanka. The organisation has over 15,000 members from over 100 schools across Sri Lanka. Some volunteers are from local and international universities and there are chapters established in the UK, Australia, Canada, New Zealand and the United States. The centre will be a vital hub for young people to help them break down boundaries caused by the civil war and will promote education and language skills.
On opening the centre the Foreign Secretary said:
This is an important and inspiring project. There are significant challenges to achieving meaningful reconciliation after a conflict, as we ourselves have found in Northern Ireland. Reconciliation is a process not an event. Building bridges and trust requires determination, patience and courage. It doesn't happen overnight and young people have a powerful role to play in building bridges between ethnic and religious communities in Sri Lanka, that were divided by war. I am pleased to be able to support such an important initiative.
Further information
Follow the UK's updates from the Commonwealth Heads of Government Meeting
Follow the Foreign Secretary on twitter @WilliamJHague
Follow the Foreign Office on twitter @foreignoffice
Follow the Foreign Office on facebook and Google+
Published 14 November 2013