News story
Foreign Secretary on government response to Tunisia attack
Foreign Secretary Philip Hammond offers condolences to families and friends of victims and sets out government response.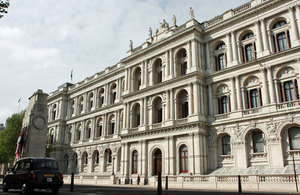 Speaking after he chaired COBR on Friday, Mr Hammond said:
I'd like to offer my condolences to the families and friends of the victims of these three shocking terrorist incidents in Tunisia, in Kuwait and in France. I've chaired a COBR meeting this afternoon to look at our response to all three of these incidents and there will be a further COBR meeting tomorrow morning.

Turning to the incident in Tunisia which of most direct concern to people in this country because of the number of Britons involved. It's clear that there have been a number of people killed. The situation on the ground is still somewhat confused and we can't be sure exactly how many but because of the nature of the composition of the tourist population in this part of Tunisia we have to assume that a high proportion of those killed and injured will have been British. We have had reports from families of those involved in the incident that allow us to confirm that at least five Britons have been killed in this incident but I should warn that we must expect that there will be more reports of fatalities as we establish the detail on the ground.

We have a consular team on the ground in Sousse. We have two further Rapid Response Teams going in overnight. We're working with the Tunisian authorities to understand what they are doing in response to this incident and around tightening of security in the area but we're talking to other national authorities, particularly the German authorities who have large numbers of tourists in the area and I've just finished a conference call with the tour operators who operate the majority of flights into this area.
Further information
Published 27 June 2015