Foreign Secretary meets with Chinese Vice-Premier
Foreign Secretary William Hague met Chinese Vice-Premier Li Keqiang on Tuesday evening as part of the Vice-Premier's four day visit to the UK.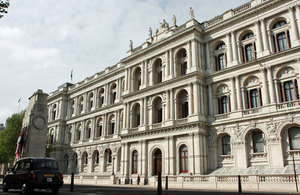 Speaking after the meeting the Foreign Secretary said:
"It was a great pleasure to have welcomed Vice-Premier Li Keqiang to the UK following the Prime Minister's invitation last year. Our discussions covered the full range of our interests, including trade and investment, the G20, Iran and DPRK. We also discussed human rights.
"This is an important time in the UK's relationship with China. I am delighted that the Vice-Premier has had the opportunity to see first-hand the UK's cutting-edge achievements in renewable energy technologies, low carbon solutions, and financial services. I see this visit as another important step in cementing the UK and China as "Partners for Growth" and continuing to build our trade and investment relationship."
Earlier in the visit Deputy Prime Minister Nick Clegg held bilateral talks with Vice-Premier Li and attended a signing ceremony where the two countries signed agreements with an estimated value of £2.6 billion.
Co-operation on conservation and culture were also on the agenda, with China agreeing to gift a breeding pair of giant pandas to Edinburgh Zoo for ten years.
Published 12 January 2011