Foreign Secretary meets Prime Minister of Kosovo
Foreign Secretary William Hague discussed the bilateral relationship and key reforms with Kosovo's Prime Minister Hashim Thaci on 26 July.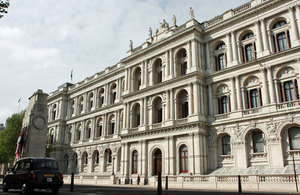 They discussed the strong relationship between the United Kingdom and Kosovo, as well as Kosovo's further integration with the EU.
The Foreign Secretary underlined the UK's continuing support for an independent and democratic Kosovo, firmly on the path towards EU membership. He welcomed Kosovo's progress in this regard and urged PM Thaci to continue to pursue with energy the key reforms necessary for a more stable and prosperous Kosovo, notably in the areas of rule of law, organised crime, electoral reform and inter-community cooperation. He encouraged PM Thaci to take forward plans for outreach to the Kosovo-Serb community in the north.
The Foreign Secretary welcomed the progress achieved in the EU-facilitated dialogue between Kosovo and Serbia. He underlined the importance of continued dialogue for building practical cooperation between Kosovo and Serbia, particularly with regards to northern Kosovo, and for ensuring both countries are able to progress in a more stable manner towards eventual EU membership.
Published 26 July 2012