Press release
Foreign Secretary meets Iranian Foreign Minister
Foreign Secretary Philip Hammond says both sides remain committed to reopening Embassies when possible.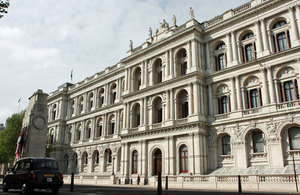 The Foreign Secretary, Philip Hammond, today met the Iranian Foreign Minister, Mohammed Javad Zarif, in the margins of the UN General Assembly in New York. This was their first bilateral meeting.
Speaking after the meeting, the Foreign Secretary said:
I met Foreign Minister Zarif in New York today.

We discussed bilateral relations and reaffirmed our commitment to reopen our Embassies once the necessary practical arrangements can be made. I also raised the UK's continuing concerns about Iran's approach to human rights, in particular the treatment of a number of British-Iranian dual nationals detained in Iran, including Ghoncheh Ghavami.

We discussed Iran's nuclear programme. I stressed that it remains in all our interests to reach an agreement which addresses international security concerns and begins to rebuild global confidence in Iran as an international partner. I was clear with Foreign Minister Zarif that the UK remains committed to securing a deal, but Iran needs to show more realism and flexibility in order for negotiations to succeed.
Further information
Follow the Foreign Secretary on twitter @PHammondMP
Follow the Foreign Office on twitter @foreignoffice
Follow the Foreign Office on facebook and Google+
Published 22 September 2014