Press release
Foreign Secretary meets Indian External Affairs Minister
The Foreign Secretary and Indian External Affairs Minister meet in London for talks on foreign policy and bilateral relations.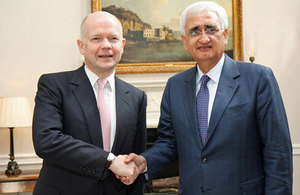 Foreign Secretary William Hague and Indian External Affairs Minister Salman Khurshid reviewed bilateral relations between India and the UK and also discussed current regional issues in South Asia, the Middle East/West Asia and Europe. Foreign Secretary Hague also briefed the visiting Minister on his Preventing Sexual Violence in Conflict Initiative. Speaking after the meeting, William Hague said:
I was delighted to welcome my counterpart in India, Minister Salman Khurshid, today in Commonwealth Week, which aptly reflects the spirit of our friendship and motivation toward the shared goals and values of Britain and India.

We discussed a wide range of issues, including bilateral matters and foreign policy issues in South Asia, West Asia and Europe.

We agreed to keep in close touch on these and other issues as part of our continued commitment to a stronger, wider and deeper relationship between the UK and India.
Mr Khurshid is in London to attend the Commonwealth Ministerial Action Group (CMAG).
Earlier this week, the UK and India held talks on multilateral affairs, including reform of the UN Security Council, UN Peacekeeping and Post-2015 Development Agenda and issues in West Asia[/Middle East], as part of their regular engagement on topics of shared interest.
Further information
Follow the Foreign Secretary on twitter @WilliamJHague
Follow the Foreign Office on twitter @foreignoffice
Follow the Foreign Office on facebook and Google+
Published 13 March 2014