Press release
Foreign Secretary meets His Majesty King Abdullah II of Jordan
UK & Jordan agree on need to advance Geneva II, support moderate Syrian opposition & assist Syria's neighbours with consequences of crisis.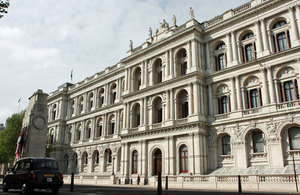 Foreign Secretary William Hague today hosted a lunch for King Abdullah, attended by Foreign Minister Nasser Judeh of Jordan, International Development Secretary Justine Greening, and Minister for the Middle East Hugh Robertson.
Speaking after the event, the Foreign Secretary said:
I welcome King Abdullah's visit to London and his attendance at the World Islamic Economic Forum. I warmly value the close bilateral relationship between the UK and Jordan and the historic bond between our two countries.
The International Development Secretary and I welcomed Jordan's extraordinary generosity in hosting over half a million refugees from Syria. The UK is now providing £89 million in humanitarian and developmental aid for Jordan, to support refugees and host communities. Jordan and the UK fully agree on the need to advance a Geneva II peace conference, to support the moderate opposition and to assist Syria's neighbours with the consequences of the conflict.
I reaffirmed the UK's support for the stability and security of Jordan. We spoke about the progress of economic and political reform in Jordan, including the need to increase employment prospects for young people in Jordan. We agreed that the unique experience and innovative approach of the Prince's Trust in working with young people could be potentially very valuable in Jordan. I therefore confirmed that the FCO was supporting a scoping study to explore that potential, building on the successful visit by HRH The Prince of Wales to Jordan earlier this year and the signature of an MOU between the Prince's Charities and the King Abdullah Fund for Development.
We also discussed the critical importance of ensuring that the Israeli-Palestinian negotiations lead to agreement on a two-state solution. We agreed that both Israelis and Palestinians will need to demonstrate continued political courage and vision in the coming months, robustly supported by the international community. We also agreed that, given the particular sensitivities, provocative actions in the holy sites of Jerusalem pose a risk to the peace process and must be avoided.
Further information
Read about the latest updates on UK aid for the Syria crisis
Follow the Foreign Secretary on facebook and on twitter: @WilliamJHague.
Follow the Foreign Office on twitter.
Follow the Foreign Office on facebook & google+.
Published 30 October 2013