Press release
Foreign Secretary marks anniversary of decision to establish the ICC
The Foreign Secretary affirms UK commitment to international action against war criminals.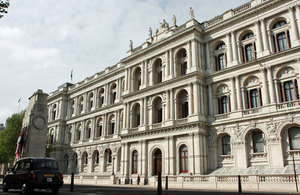 The Foreign Secretary Philip Hammond said:
On 17 July 1998, states from across the world affirmed their determination to put an end to impunity for the perpetrators of the worst atrocities by establishing a court to hold to account the individuals most responsible in cases where national authorities were unable or unwilling to act.

The UK's continuing support for the International Criminal Court is based on the same principles: the need to end impunity, ensure accountability and see justice done, as well as the importance of preventing further atrocities. Ending impunity is an essential step towards building a safer world for all.

I am proud that the UK is at the forefront of global efforts to strengthen international justice and to ensure the voices of victims will always be heard.
Further information
On 1 June 2010, at the Review Conference of the Rome Statute, the Assembly of State Parties agreed to celebrate 17 July as International Justice Day. It aims to raise awareness and generate support for the global fight against impunity. 17 July marks the anniversary of the adoption of the Rome Statute of the International Criminal Court (ICC).
The UK is actively engaged with all six international criminal courts and tribunals – the ICC, the International Criminal Tribunal for Yugoslavia (ICTY), the International Criminal Court for Rwanda (ICTR), the Residual Special Court for Sierra Leone (RSCSL), the Extraordinary Chambers in the Courts of Cambodia (ECCC), and the Special Tribunal for Lebanon (STL). As well as financial contributions, the UK is involved in overseeing the management of the courts and provides practical support including enforcing sentences.
Read the Written Ministerial Statement: 'Annual Update to Parliament on UK Support and Funding for International Justice'
Vist the ICC's website
Follow the Foreign Office on twitter @foreignoffice
Follow the Foreign Office on facebook and Google+
Published 17 July 2014