Foreign Secretary invites questions on Afghanistan and Pakistan for his seventh Twitter Q&A
Following his visit to Afghanistan and Pakistan the Foreign Secretary will answer questions about the UK's engagement in the region via Twitter, on Wednesday 29 June.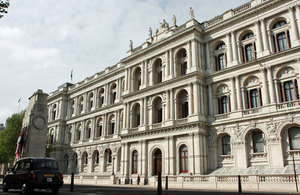 Last week Foreign Secretary William Hague visited Kabul, Helmand and Islamabad to talk to senior leaders, NATO commanders, British troops and civilians working in the region.
He is inviting members of the public to tweet their questions on Afghanistan and Pakistan by including his twitter name @WilliamJHague and the hashtag #askFS. At 3.00pm UK time, Wednesday 29 June the Foreign Secretary will answer as many questions as possible. You will be able to follow the Q&A below.
The Foreign Secretary was in Afghanistan on a joint visit with the Foreign Minister of the United Arab Emirates. This was the first visit of its kind, and included joint talks with Afghan President Karzai. Their discussions were focussed on Afghan efforts on the political process, including reconciliation, as well as recent progress against the insurgency on wider governance and development.
The visit to Afghanistan coincided with the announcement by President Obama of the United States on the plans to draw down the US troops surge from Afghanistan.
The Foreign Secretary then visited Islamabad for talks with the Pakistani Government on the UK-Pakistan Enhanced Strategic Dialogue, launched by UK and Pakistani Prime Ministers in April.
This Twitter Q&A is the latest in a series of online engagements by the Foreign Secretary. William Hague began tweeting in 2010 and he has held six previous Q & A sessions as Foreign Secretary, where he has responded to questions on topics such as Libya, the Middle East, the United Nations, and UK-Asia relations. He also has a video blog where his most recent video focused on the Arab Spring and what it could mean for the people of the region.
Published 27 June 2011