Press release
Foreign Secretary in Latin America to promote UK security and prosperity
Foreign Secretary visits Colombia and Brazil, leading democracies in a region of huge economic potential and growing political weight in the world.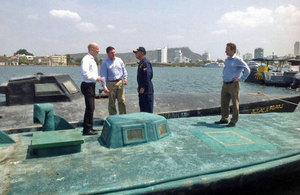 In Colombia (on Sunday and Monday), the Foreign Secretary will meet President Santos as well as the Foreign Minister and Finance Minister. He will discuss UK support for Colombia's efforts to tackle the drugs trade and organised crime with the Defence Minister, and will launch a joint commitment with Colombia on the UK's ground-breaking Preventing Sexual Violence Initiative (PSVI).
In Brazil (Monday-Wednesday), the Foreign Secretary will visit the World Cup stadium at Manaus, where England will play its first match, and hear about the progress of World Cup preparations. He will join Foreign Minister Luiz Figueiredo for the third UK-Brazil Strategic Dialogue, and will promote work being done to alleviate poverty in Africa. He will also promote the efforts of British businesses in both Brasília and São Paulo.
The Foreign Secretary said:
Following President Santos's visit to London last year, this will be my first visit to Colombia, a valued partner for the UK. More and more UK companies are benefiting from our growing trade relationship. During my visit, I will reaffirm the UK's support for peace negotiations with the FARC. We know from our experience in Northern Ireland that peace takes commitment, patience and reconciliation.

In Brazil, I am looking forward to seeing where England will play their first World Cup match and hearing first-hand about the opportunities the tournament provides for British businesses expanding their reach across the continent.

In both countries I will discuss with my counterparts our cooperation in the UN and the G20, and the work we do together on a wide range of foreign policy issues, including human rights. I am pleased to be hosting events on my Preventing Sexual Violence Initiative (PSVI) in both Colombia and Brazil.
Earlier this month the Deputy Prime Minister was also in Colombia. He announced a new bilateral trade target of £4 billion by 2020 – our previous target of £1.7 billion having been met two years early. He announced the resumption of direct flights between the UK and Colombia this July after a decade's absence.
In Colombia the Royal Navy works closely with its counterparts on the seizure of drugs heading to the UK via the Caribbean. HMS Lancaster recently intercepted drugs worth £58 million, which would otherwise have made their way on to UK streets.
Further information
Follow the Foreign Secretary on twitter @WilliamJHague
Follow the Foreign Office on twitter @foreignoffice
Follow the Foreign Office on facebook and Google+
Published 16 February 2014