Press release
Foreign Secretary in Beijing
The Foreign Secretary has raised the issue of over-capacity in steel production during talks with the Chinese Foreign Minister in Beijing.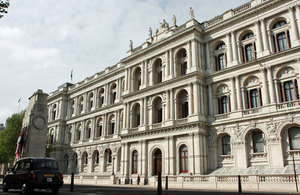 Philip Hammond travelled to Beijing for a meeting with Chinese Foreign Minister Wang Yi, en route to Hiroshima for the G7 Foreign Ministers' meeting.
The Foreign Secretary said:
As part of my wider visit to the Asia-Pacific region, my meeting in Beijing has provided an opportunity to discuss issues of mutual concern, including steel over-capacity. I urged China to accelerate its efforts to reduce levels of steel production. The UK's focus is on finding a long-term sustainable future for steel making at Port Talbot and across the UK, and I welcomed the potential interest of Chinese companies in investment in UK steel-making.

The UK's relationship with China is a strategic partnership and we've acknowledged on both sides that such a relationship enables us to raise difficult issues and to discuss them together. In that spirit we discussed the UK's continued concerns over the booksellers' case and Mr Lee Po.

Our diplomatic and economic relationship with China is strong and delivering benefits for both countries. We are building on the global partnership established during last year's successful State Visit by President Xi Jinping, by working together closely on international challenges and strengthening our trade and investment links. Examples of our global partnership in action include new security and peacekeeping dialogues, a new fund on antimicrobial resistance, and cooperation on Syria, Iran and North Korea.
The Foreign Secretary will travel to Hiroshima on the next stop of his East Asia tour, followed by Vietnam.
Further information
Published 9 April 2016