Press release
Foreign Secretary: Gaza Human Rights resolution will not aid peace process
Philip Hammond says UN Human Rights Council resolution will not help achieve ceasefire and is fundamentally unbalanced.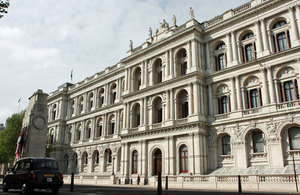 Commenting on the resolution on Gaza adopted today by the UN Human Rights Council, Foreign Secretary Philip Hammond said:
The UK is deeply concerned by the continuing bloodshed in Gaza. It is tragic that so many innocent civilians, including women and children, have been killed and injured. The urgent priority is to stop the bloodshed, restore a ceasefire and work for a longer term solution. All our efforts will be concentrated on that objective.
Today's UN Human Rights Council resolution will not help achieve a lasting ceasefire. It is fundamentally unbalanced and will complicate the process by introducing unnecessary new mechanisms.
The UK could not support this resolution, but recognising the strength of feeling about the loss of life and the desire by a large number of members of the Council to express that feeling in a resolution, the UK joined other EU nations in abstaining in the vote.
We will continue to urge Israel to exercise restraint, make every effort to avoid civilian casualties and work for an immediate ceasefire, while recognising its right to defend itself against these attacks.
Further information
Follow the Foreign Office on Twitter.
Follow the Foreign Office on Facebook & Google+.
Published 23 July 2014