Foreign Secretary expresses concern at military build up on Sudanese border
Foreign Secretary William Hague spoke following reports of a potential confrontation between Sudanese Armed Forces and the Sudan People's Liberation Army.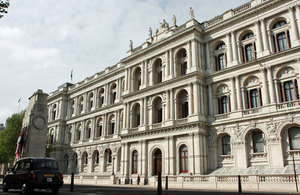 Expressing concern about the confrontation on the border between Sudan and South Sudan, the Foreign Secretary said:
"I am very concerned by reports of the build up of military forces on both sides of the Sudan - South Sudan border.
"It is vital that tensions between the two countries do not escalate into conflict. I urge the Governments of both parties to take immediate steps to defuse the situation, halt the build up of forces, and immediately implement border monitoring arrangements. I call on both Governments to cease aggressive acts, stop all support to proxies in each others' territories, and use the forthcoming talks in Addis Ababa to address this serious threat to peace and security.
"A return to violence between Sudan and South Sudan would be a tragedy, putting at risk the progress made since the signing of the Comprehensive Peace Agreement in 2005 and risking the lives of countless Sudanese and South Sudanese, who have already endured decades of conflict.
"The UK has, since South Sudan's independence, supported the efforts of both countries to create two stable, viable states, at peace with one another. We do not underestimate the scale of this challenge. But we urge the Governments of Sudan and South Sudan and their leaders to recommit to resolve peacefully their outstanding differences, in order that their people can build a stable and prosperous future."
Published 5 March 2012