Foreign Secretary: el-Houla atrocities "must be investigated"
Foreign Secretary William Hague has welcomed the Human Rights Council's resolution on Syria today.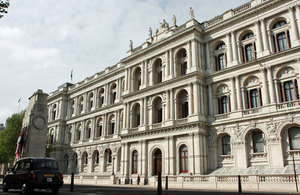 "I welcome today's meeting of the Human Rights Council and the adoption of a resolution on Syria which Britain co-sponsored.
"We believe that the acts committed by the Syrian regime may amount to crimes against humanity and other international crimes, and demonstrate a pattern of widespread and systematic attacks against civilian populations.
"Evidence from the UN Supervision Mission in Syria and independent witnesses has confirmed that security forces shelled the village of el-Houla and that government militia then went house to house slaughtering entire families without compassion or mercy.
"These atrocities must be investigated, and those responsible must be held to account. A special and independent investigation into el-Houla is essential - including to ensure that evidence is gathered and preserved for future justice processes.
"Britain will support these efforts, and will continue to prepare the ground for a referral of the situation in Syria to the International Criminal Court."
The resolution was passed with 41 votes in favour and 3 against.
Published 1 June 2012