Press release
Foreign Secretary discusses Middle East with Turkey's Foreign Minister
The Foreign Secretary and Turkish Foreign Minister Davutoğlu met today in London to explore further cooperation on Middle East stability.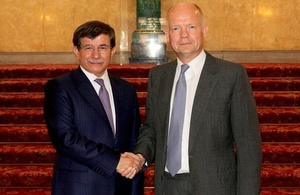 The Foreign Secretary today welcomed Turkish Foreign Minister Ahmet Davutoğlu to Lancaster House to discuss events in the Middle East. The visit of Foreign Minister Davutoğlu underlined the high level of co-operation between the UK and Turkey on foreign policy. Faced with widespread violence in Egypt and Syria, the meeting explored ways of developing co-operation between the EU and all of our regional partners to build stability in the Middle East.
The Foreign Secretary, William Hague, said:
"We discussed the situation in Syria and appalling reports that hundreds of people have been killed in a chemical weapons attack and airstrikes on rebel-held areas near Damascus. We agreed that the Syrian government must allow immediate access to the area for the UN team currently investigating previous allegations of chemical weapons use. We also discussed continued international co-operation in tackling the grave humanitarian situation in Syria and on how to encourage progress towards a political solution.
"On Egypt we both share a deep concern about unacceptable levels of violence on all sides. We agreed on the urgent need to stabilise the situation through a politically inclusive and democratic process, and to safeguard the interests of the Egyptian people.
"We agreed to continue to work closely on these issues over the coming months, as well as on continued support for Turkey's EU accession."
Further information
Follow the Foreign Secretary on twitter @WilliamJHague
Follow the Foreign Office on twitter @foreignoffice
Follow the Foreign Office on facebook and Google+
Published 22 August 2013