Press release
Foreign Secretary discusses foreign policy priorities and trade with China
Boris Johnson hosted Chinese State Councillor Yang Jiechi today (Tuesday 20 December) for annual foreign policy talks at Lancaster House, London.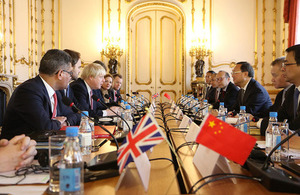 The two ministers reaffirmed their commitment to working together under the Global Strategic Partnership agreed during President Xi's State Visit to the UK in 2015. They agreed on the urgency of addressing the humanitarian crisis in Syria - welcoming yesterday's UN Security Council Resolution - and affirmed their commitment to the enforcement of sanctions against North Korea.
The talks also underlined the UK and China's support for the Government of Afghanistan in bringing an end to the conflict there.
The Foreign Secretary emphasised the UK's openness to Chinese students, tourists and businesses as part of discussions on how free trade, open markets and rule of law will enhance economic growth.
The Ministers discussed the importance of abiding by international law in the South China Sea and refraining from activities which could raise tensions. They also exchanged views on human rights and Hong Kong, including the importance of maintaining confidence in 'One Country Two Systems'.
The Foreign Secretary Boris Johnson said:
The UK and China share an interest in a stable and ordered world. State Councillor Yang and I talked about the great progress we have made in the first year of our global strategic partnership as well as the urgency of working ever more closely to address global challenges including through the UN Security Council on issues such as North Korea and Syria. I am pleased that we have agreed to step up our cooperation in support of Afghan reconstruction and an Afghan-owned and led political settlement to the conflict, and work together to support the development of infrastructure in Afghanistan.

As two global powers, the UK and China are building economies of the future underpinned by the rule of law that enables the business environment. I am committed to intensifying our trade relationship, including more market access for UK service exports and more Chinese investment in the UK.

And the links between our people continue to grow. The number of Chinese tourists visiting Britain has more than doubled over the last five years and we currently welcome over 140,000 Chinese students to our world class educational institutions here in the UK. Here in the UK more and more young people are learning Chinese, positioning the UK in an ever more global marketplace.
Notes to editors:
A joint statement on Afghanistan resulting from these talks can be found here
Further information
Published 20 December 2016