Foreign Secretary discusses "desperate need for a political solution in Syria"
Foreign Secretary William Hague met members of Syrian opposition groups, UN Secretary General Ban Ki Moon and today in Istanbul.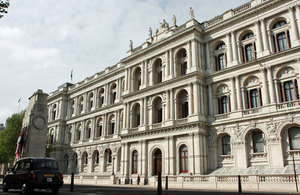 Speaking after meeting Syrian opposition groups, the Foreign Secretary said:
"My meetings today with the Syrian opposition and the Turkish Foreign Minister were important and timely in the light of the sickening murders at el-Houla and other parts of Syria in recent days. We discussed the desperate need for a political solution in Syria and the importance of implementing the Annan Plan in full to ensure that a political transition happens quickly.
"We discussed what more the UK and international community could do to help Syria's opposition become a credible and effective alternative to President Assad's murderous regime.
"I emphasised the need to build a coherent and unified opposition that brings together different representative groups."
The Foreign Secretary also met UN Secretary General, Ban Ki Moon, to discuss the international response to the crisis. Commenting afterwards he said:
"The Secretary General and I share a deep concern that Syria is on the brink of a vicious civil war. We agreed that President Assad must fulfil his commitment to implementing the Annan Plan if this scenario is to be averted. We resolved to continue to work tirelessly to solve the crisis and will consider all options available in doing so."
Published 1 June 2012