Press release
Foreign Secretary discusses counter-terrorism with Turkish FM
Foreign Secretary spoke to Turkish Foreign Minister Cavusoğlu about cooperation on fight against terrorism, including ISIL.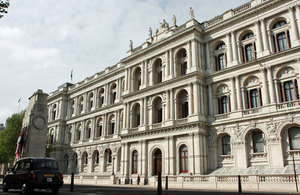 Following recent developments in the fight against ISIL, the Foreign Secretary called his Turkish counterpart Foreign Minister Cavusoğlu to discuss cooperation on the fight against terrorism.
Speaking after the call, the Foreign Secretary said:
My conversation with Foreign Minister Cavusoğlu covered a range of important regional and international business.

We talked about Turkey's recent action against ISIL and the increased use of Turkish air bases that will further enhance coalition efforts to counter the ISIL threat in the region. The Global Coalition, including Turkey, is committed to defeating ISIL – a fight that will take time and patience but one we must win.

Turkey has also suffered a recent series of PKK terrorist attacks. I passed my condolences for the loss of so many lives. The UK condemns all acts of terrorism, and we recognise the Turkish government's right to respond proportionately. I made clear the UK's continued support for getting the Kurdish peace process back on track.
Further information
Published 7 August 2015