Press release
Foreign Secretary deplores violence in Ukraine
Foreign Secretary, William Hague, has called on all sides to address the concerns of the Ukrainian people.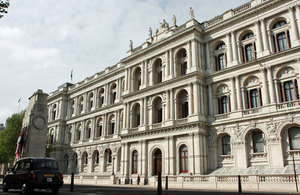 Following a Foreign Affairs Council meeting in Brussels, which agreed Conclusions on Ukraine, the Foreign Secretary, William Hague, said:
I deplore the recent violence in Kyiv and call on all parties to exercise restraint. I welcome the news that there will be a cross-party commission to address the crisis. This needs to be a sincere effort on all sides to respond to the concerns that millions of Ukrainians have expressed in peaceful, dignified, civilised protest over recent weeks.

It was a serious mistake to enact legislation that places greater restrictions on fundamental freedoms, and it's time for President Yanukovych to demonstrate that his commitment to the democratic values and fundamental freedoms which are essential to building a strong and successful Ukraine is genuine. Failure to pursue this path will put increasing obstacles in the way of successful interaction between the Ukrainian administration and the rest of Europe.
Further information
Follow the Foreign Secretary on twitter @WilliamJHague
Follow the Foreign Office on twitter @foreignoffice
Follow the Foreign Office on facebook and Google+
Published 20 January 2014