Press release
Foreign Secretary congratulates Tunisians on election
Foreign Secretary congratulates Tunisians who voted in election on 26 October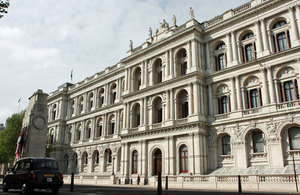 The Foreign Secretary Philip Hammond said:
My warmest congratulations to the millions of Tunisians who cast their votes on Sunday 26 October. I also congratulate the Tunisian Government, the independent elections body ISIE, the National Dialogue and all the political parties and civil society organisations whose hard work over the past three years has made this vote possible.

Tunisia's democratic transition is almost complete. By voting in these elections the Tunisian people took another important step towards determining their future, as they will do again in the Presidential elections on 23 November.

On behalf of the British Government I reaffirm our commitment to support the Tunisian people and to work with the future Tunisian Government as they lead the country towards a democratic, secure and prosperous future.
Further information
Published 28 October 2014