Press release
Foreign Secretary congratulates re-elected President of Colombia
Foreign Secretary William Hague congratulates His Excellency Juan Manuel Santos Calderón on winning the Colombian Presidential elections.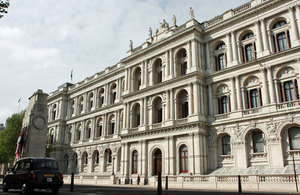 Speaking after hearing the result of 15 June elections, Mr Hague said:
I offer my warmest congratulations to President Santos. The UK and Colombia enjoy a close and important relationship and we remain committed to strengthening this across a range of issues including security and defence, trade and investment, health, education, science and infrastructure. We congratulate the President on the progress he has made in peace negotiations with the FARC and stand ready to support him on this during his next term in office.
Further information
Follow the Foreign Secretary on twitter @WilliamJHague
Follow the Foreign Office on twitter @foreignoffice
Follow the Foreign Office on facebook and Google+
Published 16 June 2014