Press release
Foreign Secretary congratulates Prime Minister al-Abadi on new Iraqi government
Foreign Secretary hails formation of Iraqi Government as important step in tackling threat from ISIL.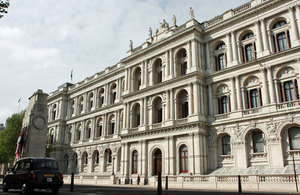 Speaking after Iraq's Parliament approved a new Iraqi Government led by Prime Minister Haider al-Abadi, Foreign Secretary Philip Hammond said:
The formation of Iraq's new government is an important milestone and I congratulate Prime Minister Haider al-Abadi.

This is a critical first step on the way to addressing the serious security, political and humanitarian challenges facing Iraq. It is now vital that all political blocs work together to overcome those challenges, including the threat posed by the Islamic State of Iraq and the Levant. To do this, it will be important for Interior and Defence Ministers to be appointed quickly. I welcome Prime Minister al-Abadi's commitment to do this within the coming week.

We will continue to support the people of Iraq, and their new Government, in pursuit of peace and prosperity. The British Government will work closely with the new Government of Iraq as it fights terrorism and to further strengthen the political, security and, economic ties between our nations.
Further information
Follow the Foreign Office on twitter @foreignoffice
Follow the Foreign Office on facebook and Google+
Published 9 September 2014