Foreign Secretary condemns violence in Syria
Foreign Secretary William Hague said the legitimate aspirations of Syrian people need to be met. He calls on the Syrian Authorities to respect the right of the people to express their views.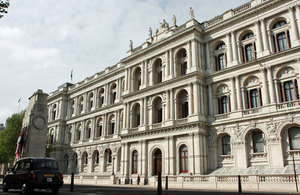 "I condemn utterly any violence and killings perpetrated by the Syrian security forces against civilians who are expressing their views in peaceful protests. This violent repression must stop. President Assad should order his authorities to show restraint and to respond to the legitimate demands of his people with immediate and genuine reform, not with brutal repression. Words are not enough: the Emergency Law needs to be lifted in practice and the legitimate aspirations of the people met.
I call on the Syrian authorities to respect the right of their people to express their views. Protesters must be protected, not attacked. There needs to be accountability for the deaths that have occurred.
The stability of Syria matters to the people of Syria, but also to the region. The only path to stability is through serious reforms, genuinely and speedily implemented, to address the legitimate demands of peaceful protesters. The present actions of the security forces in Syria do not enhance security, they undermine it.
The United Kingdom is working intensively with our international partners to persuade the Syrian authorities to stop the violence and respect basic and universal human rights to freedoms of expression and assembly. This includes working with our partners on the United Nations Security Council to send a strong signal to the Syrian authorities that the eyes of the international community are on Syria, and with our partners in the EU and the region on possible further measures. We must see acts of genuine reform not repression."
Published 26 April 2011