Press release
Foreign Secretary condemns Israeli steps towards settlement expansion
William Hague condemns Israeli steps towards settlement expansion in the West Bank and says negotiations are only way to peace.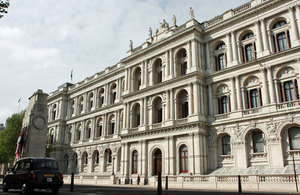 Commenting on steps taken by the Government of Israel to begin the authorisation of an illegal outpost and to allow settlers to regain ownership of a building in Hebron, the Foreign Secretary William Hague said:
The UK condemns the decisions taken by the Israeli authorities to change the status of a significant amount of land around the illegal settler outpost of Netiv Ha'avot and to create a new settlement in Hebron. Settlements are illegal and an obstacle to peace, and these decisions detract from ongoing efforts to deliver a two state solution to the Israeli-Palestinian conflict. The only path to peace is through negotiations.
Further information
Follow the Foreign Secretary on twitter @WilliamJHague
Follow the Foreign Office on twitter @foreignoffice
Follow the Foreign Office on facebook and Google+
Published 17 April 2014