Foreign Secretary condemns brutal violence in Syria
Foreign Secretary William Hague "horrified" at escalating violence.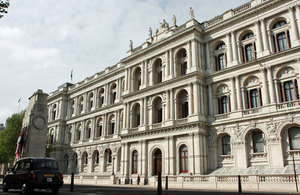 Foreign Secretary William Hague condemned the violence in the Syrian city of Homs, which has been at the heart of protests against President Assad's regime since March 2011:
"I am horrified at reports of an assault on Homs during the night of 3 February which has led to over 200 fatalities. I condemn unequivocally the use of tanks, mortars and artillery in civilian areas. It is all the more chilling that these events occurred on the thirtieth anniversary of the Hama massacre, in which it is estimated that 20,000 people were killed.
"The Syrian regime's actions display President Assad's cold-blooded cynicism in the face of mounting international pressure for the UN Security Council to do its utmost to end the bloodshed in Syria. The escalating violence underlines the critical importance of the UN Security Council adding its weight to the Arab League's efforts to end the crisis in Syria. The time is long past for the international community, particularly those that have so far sheltered the Assad regime, to intensify the pressure to end over 10 months of violence."
Published 4 February 2012