Press release
Foreign Secretary condemns Assad's use of chlorine in Syria
Foreign Secretary condemns Assad regime's use of chlorine in Syria, following report by the OPCW Fact Finding Mission.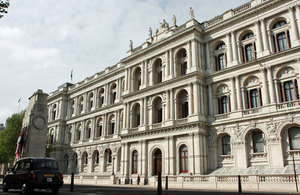 Commenting after the release of the latest report by the Organisation for the Prohibition of Chemical Weapons (OPCW) Fact Finding Mission, the Foreign Secretary Philip Hammond said:
The findings of the latest OPCW report corroborate allegations that the Assad regime is continuing to use chemical weapons in Syria, in violation of the Chemical Weapons Convention.
The systematic and repeated use of chlorine in northern Syria and the consistent reports from witnesses of the presence of helicopters at the times of the attacks leave little doubt as to the Assad regime's culpability. That the Assad regime continues to commit such atrocities against the people of Syria is an outrage. The regime's horrific attacks on its own civilians with chemical as well as conventional weapons further highlight Assad's disregard for international legal obligations, human rights and basic humanity.
It is essential that the perpetrators of these crimes, and the other atrocities committed in Syria, are held to account. The UN Security Council must consider the report's findings. We are consulting with international partners on the best course of action.
Further information
Follow the Foreign Office on Twitter.
Follow the Foreign Office on Facebook & Google+.
Published 10 September 2014
Last updated 10 September 2014
+ show all updates
Added translation
First published.