Press release
Foreign Secretary concerned at release of convicted war criminals in Bosnia and Herzegovina
Foreign Secretary calls for urgent consultations following release of 10 convicted war criminals in Bosnia-Herzegovina on 19 November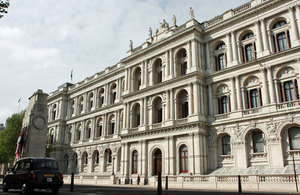 The Foreign Secretary, William Hague, said:
I note with deep concern the release of ten convicted war criminals in Bosnia and Herzegovina yesterday.

These men were found guilty of the most heinous crimes committed in Europe since the Second World War, including genocide.

That they have now been released suddenly, and without any consideration for the families of their victims, makes this decision very difficult to comprehend.

The European Court of Human Rights ruling that led to these releases is complex and needs proper consideration before releases are made. I call on all relevant institutions in Bosnia to ensure that this takes place. This is vital for the credibility of Bosnia's institutions.

The UK is a committed supporter of the independence of the state-level judiciary in Bosnia and Herzegovina and we will continue to support Bosnia in its fight against impunity for war-crimes. We will take forward urgent consultations with the authorities in Bosnia-Herzegovina and our international partners about these developments.
Further information
Follow the Foreign Secretary on twitter @WilliamJHague
Follow the Foreign Office on twitter @foreignoffice
Follow the Foreign Office on facebook and Google+
Published 20 November 2013