Press release
Foreign Secretary commemorates World War 1 Centenary
The FCO is commemorating WW1 centenary in services of remembrance today.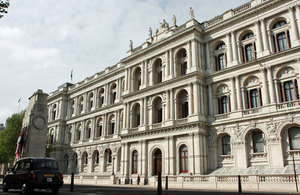 100 years ago today (4 August) Britain entered World War 1; a war which spanned the globe and cost millions of lives.
As part of honouring this global history, the Foreign Secretary will attend a ceremony in Liege, Belgium, and Foreign Office Ministers will attend services of commemoration in Glasgow and London.
The Foreign Office and British Embassies around the world are also taking part in the 14-18NOW LIGHTSOUT initiative. They will leave a single light burning to commemorate those who lost their lives.
These events are an important part of the First World War Centenary Partnership which will continue to co-ordinate events over the next 4 years. The joint efforts of the Partnership ensure that important stories are shared and remembered.
Marking the centenary, the Foreign Secretary, Philip Hammond said:
In services today in Liege, Glasgow and London, I – and my Ministerial colleagues – remember the men and women of World War 1. They worked and fought together, regardless of nationality, beliefs or upbringing in a war which reached the farthest corners of the globe.

We owe a great deal to them. They showed immense courage and made great sacrifices. Today, we remember.
Further information
Follow the Foreign Office on twitter @foreignoffice
Follow the Foreign Office on facebook and Google+
Published 4 August 2014