Foreign Secretary calls on Syria to implement the Annan plan
Foreign Secretary William Hague said that the Annan plan has failed so far, but is not dead and all hope for it is not lost.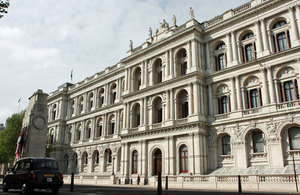 Speaking today about the situation in Syria, the Foreign Secretary said:
"From everything that we can understand, in a village in Hama, people have been shelled from tanks then the pro Government militia and forces have gone in and killed men, women and children and then UN monitors who wanted to find out what had happened have then be prevented from doing so.
And now that really is escalating criminality and so it does underline the importance of what Kofi Annan has been saying at the United Nations today that his plan should be supported by everyone in Syria but, of course, by all the members of the Security Council, that means Russia and China using their influence as well as Britain, France and the United States because the Annan Plan won't last indefinitely.
Syria is clearly on the edge as I was saying last week of, of deeper violence, of deep sectarian violence; village against village, pro Government militias against opposition areas and of looking more like Bosnia in the 1990s than of Libya last year."
The Foreign Secretary said that the Annan plan "has clearly failed so far, but it is not dead":
"All hope for it is not lost and this was the case that I was making in Moscow last week that Russia has important leverage over the Syrian regime and if all the members of the Security Council and the whole Arab World increased the pressure on the Assad regime to implement that plan then it is still possible to do so.
It would take a big change on the part of the regime but time is not yet at an end, it's clearly running out because that violence is escalating and violence, even violence against the regime appears to be escalating, we saw accounts of perhaps eighty Syrian soldiers killed the other day.
So this is a rapidly deteriorating situation and so I think as we come up to the G20 meeting in two weeks time where so many of the world leaders will be together it's very important for us to, for the whole world to focus on this. If the Annan Plan doesn't work at all, if no one even then is prepared to ensure that it is implemented well then we have to return to the United Nations Security Council to debate more robust and effective measures but, of course, any idea of such measures has been blocked in the past."
Speaking about Russia and China's position towards the situation in Syria the Foreign Secretary said:
"Well they haven't yet shifted in their readiness to agree stronger United Nations Security Council resolutions but Russia and China are in favour of the implementation of, of Kofi Annan's six point plan and that includes a cessation of violence, the regime drawing back its forces from populated areas. It includes a political process leading to a more plural and democratic political system.
So we're agreed in the UN Security Council, we're agreed with Russia and China that we want those things, what we want is them to join us in exercising their leverage, their power to ensure that the Assad regime actually does those things, actually implements the Annan Plan. That is really the debate.
"I think in Russia, as I found on my visit last week, there is an increased anxiety about the situation and we will continue to make the case to them that it is not in Russian interests or in anybody's interests for a state of collapse to happen in Syria and for bloodshed to happen on an even greater scale."
"They say of course they're not attached to the Assad regime but so far the vetoing of resolutions at the Security Council, the failure to apply sufficient leverage to the regime has given it the breathing space to fight on in this despicable, murderous way. But given the importance of Russia in these matters we will continue to work to persuade them, to work with them. That I think is the important priority over the next two weeks.
We will also try to, with the other countries that I met in Istanbul last night, with Turkey with the Arab nations, we will encourage and help the Syrian opposition groups to come together more effectively. We will continue to provide humanitarian aid from the United Kingdom and we'll continue to ask other countries including Arab countries to apply tougher sanctions to the Assad regime."
Published 7 June 2012