Press release
Foreign Secretary calls for smooth transition of power in Iraq
Philip Hammond welcomes Prime Minister Maliki's support for Dr Haider Al-Abadi's nomination as Iraqi PM designate, and calls for quick formation of inclusive government.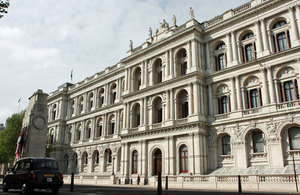 Speaking before his attendance at the Foreign Affairs Council, where Iraq is on the agenda, the Foreign Secretary said:
Prime Minister Maliki's decision to place his support behind Prime Minister-designate al-Abadi, as he works to form a new Iraqi Government, is an important step at a crucial moment for Iraq.

We congratulate him on acting so clearly in the national interest of Iraq.

Iraq must see a smooth transition of power, and I hope this decision will contribute to the quick formation of a unified and inclusive government that can address the serious security, humanitarian and political challenges that Iraq faces. Prime Minister-designate al-Abadi can be assured he has Britain's full commitment to working with an inclusive Iraqi government formed with the main Shia, Sunni and Kurdish blocs as they agree on immediate actions against ISIL and measures to protect all Iraqi citizens and command the lasting support of the international community.
Read more about the UK government's response to the situation in Iraq.
Further information
Follow the Foreign Office on twitter @foreignoffice
Follow the Foreign Office on facebook and Google+
Published 15 August 2014