Press release
Foreign Secretary Boris Johnson visits India
Boris Johnson will visit New Delhi and Kolkata (18–19 January 2017) in his first official visit to India as Foreign Secretary.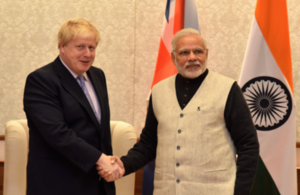 Today (Wednesday), the Foreign Secretary will visit New Delhi to set out the UK's vision for a Global Britain and a strengthened relationship with India and the region in a keynote speech at the Raisina Dialogue.
He will hold talks with Indian ministers, including Finance Minister Jaitley and Minister for External Affairs MJ Akbar, to continue working towards the ambitious partnership that Prime Ministers Theresa May and Narendra Modi committed to during her visit last November.
He will also meet young Indian entrepreneurs and civil society leaders, as well as hosting a breakfast for British and Indian business representatives and investors.
On Thursday, the Foreign Secretary will travel to Kolkata where he will meet Chief Minister of West Bengal Mamata Banerjee. He will also meet representatives of the Cricket Association of Bengal and attend a debating competition featuring teams from Cambridge University and the London School of Economics marking the bicentenary of Presidency University.
The Foreign Secretary said:
It's a tremendous pleasure to be back in India, a wonderful, beautiful and thriving country. As two modern, diverse democracies, the UK and India are natural partners and we are committed to working together to promote our people's prosperity, improve global security and tackle the challenges that both our countries face today.

As well as a trade relationship worth £16bn, Indian companies have already created more than 100,000 jobs in the UK and sent 160,000 of the brightest and best students to our world class universities over the last 10 years. I have no doubt that the UK and India share an exciting future together on the world stage.
Further Information
The Foreign Secretary is the first British Cabinet Minister to visit India since Prime Minister Theresa May visited New Delhi and Bengaluru in November 2016.
The Raisina Dialogue is India's flagship geopolitical conference, organised by the Indian Ministry of External Affairs and the Observer Research Foundation.
Published 18 January 2017