Press release
Foreign Secretary attends Iran nuclear talks in Vienna
Foreign Secretary William Hague has arrived in Vienna for Iran nuclear talks and discussions on the violence in Gaza.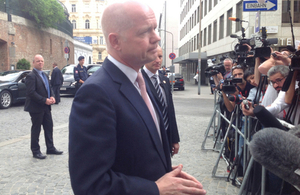 The Foreign Secretary said:
As you know our purpose is to negotiate an agreement which gives the world confidence that the nuclear activities of Iran are exclusively for peaceful purposes. We're building on the interim agreement we made last November which has so far been upheld by all concerned including by Iran. There are very significant gaps, that is very clear in these negotiations, and it is unlikely there will be a quick breakthrough today. But we have gathered Foreign Ministers at the request of Baroness Ashton to see what the scope is for making progress before 20 July next week when the six month period of the interim agreement expires.

In the margins of this, we will also discuss what is happening in Gaza. There is an urgent need to bring an end to the violence in Gaza and to restore the November 2012 ceasefire agreement. Many of us, the Foreign Ministers of EU countries, have been discussing what can be done. Yesterday I spoke with President Abbas and with the Israeli Foreign Minister and the UN Security Council made a statement about the need for an end to the violence in Gaza. I know that we will be working further on that today.
Further information
Follow the Foreign Secretary on twitter @WilliamJHague
Follow the Foreign Office on twitter @foreignoffice
Follow the Foreign Office on facebook and Google+
Published 13 July 2014