News story
Foreign Secretary attends EU Foreign Affairs Council meeting
Before the meeting, the Foreign Secretary, Boris Johnson, spoke to media about the meeting's agenda, Turkey, defence and the US election.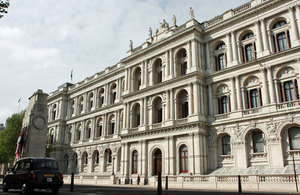 On 14 November 2016 the Foreign Secretary, Boris Johnson, attended the EU Foreign Affairs Council meeting.
Speaking to the media outside, the Foreign Secretary Boris Johnson said:
We've got a very full agenda today. We'll be focusing here today on Yemen, Lebanon and on Turkey.

Turkey remains a matter of some concern, and it's very, very important that we should not push Turkey into a corner. We should not overreact in a way that is against our collective interest to what's going on in Turkey. Remember they've had a very difficult situation there, a very serious attempted coup.
We'll talk about the Common Foreign and Security Policy, the CSDP (Common Security and Defence Policy) that's been developed and measures to take forward European defence cooperation, where I think we've made some very good progress. The UK is supportive, and I look forward to the conversations.
On Defence:
I think the crucial thing about the European efforts on defence is that it's a good thing if everyone steps up to the plate and spends a bit more on defence themselves. One of the great things about our government is that we do spend 2% of GDP on defence. We're heavily committed, we're out there in all the key EU operations, OP Sophia, OP Atalanta. The UK is a major, major player. I personally think it's a good thing if other European countries do shoulder more of their responsibilities and spend a bit more on defence. I wouldn't be against that. It's important when you're setting up these EU structures that they should be complementary with NATO. You shouldn't undermine the fundamental security architecture that's looked after us for the last 70 years.
On the US Election:
I think there's a lot to be positive about. It's very important not to prejudge the President-elect or his administration. It's only a few days since the election has taken place. I think we all need to wait and see what they come up with. But I think we should regard it as a moment of opportunity. This is a time when, as the Prime Minister is saying today, when there's a big change going on in the world. People who feel they haven't been properly listened to, properly represented, are starting to make their voices heard. It is up to us, up to everybody, to listen to them and to take things forward in a positive way. Donald Trump, as I've said before, is a deal maker and I think that could be a good thing for Britain, but it can also a good thing for Europe. I think that's what we need to focus on today.
Further information
Published 14 November 2016