Press release
Foreign Secretary arrives in Argentina ahead of 2018 G20 Foreign Ministers' meeting
Boris Johnson arrived in Buenos Aires, Argentina on 20 May for a 3-day visit, and laid a wreath to honour the fallen of the Falkland Islands conflict.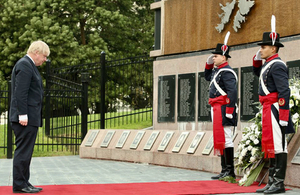 During the visit he will represent the UK at G20 summit, on Monday 21 May, and hold bilateral meetings with President Mauricio Macri and Foreign Minister Jorge Faurie.
Speaking on arrival in Argentina Foreign Secretary Boris Johnson said:
The relationship between the UK and Argentina has come a long way over the past few years and this visit will be an opportunity to build on and enhance ever closer co-operation on trade, investment, cultural ties, tackling corruption and organised crime, and increasing links in science and technology.

As the UK leaves the European Union, my message is that the UK is open for business. I look forward to a new chapter in our relationship, and booming trade prospects, after the UK leaves the European Union.
In the first visit by a British Foreign Secretary to Argentina in 22 years, Mr Johnson joined Foreign Minister Faurie, Defence Minister Agaud and Security Minister Bullrich at a ceremony at the 'Monument to the Fallen'. Mr Johnson laid a wreath in honour of those who died on both sides of the 1982 Falkland Islands conflict.
Speaking ahead of the ceremony Foreign Secretary Johnson said:
It is an honour to join Foreign Minister Faurie today, and to lay a wreath at the Monument to the Fallen, commemorating all those who died in the Falkland Islands conflict.
On Monday (21 May) Mr Johnson will attend the G20 Foreign Ministers' meeting, a summit for 19 countries and the European Union, which will focus on the themes of 'Multilateralism and Global Governance' and 'Action for a Fair and Sustainable Development'.
Background
the G20 is made up of 19 countries and the European Union. The 19 countries are Argentina, Australia, Brazil, Canada, China, Germany, France, India, Indonesia, Italy, Japan, Mexico, Russia, Saudi Arabia, South Africa, South Korea, Turkey, the United Kingdom and the United States. Spain is a permanent invited guest to G20 meetings
this year Argentina has also invited Chile, the Netherlands, Jamaica (representing the CARICOM), Rwanda (representing the African Union), Senegal (representing NEPAD) and Singapore (representing ASEAN) to attend
Published 20 May 2018