Foreign Secretary "appalled" by assassination of Pakistan's Minorities Minister
Foreign Secretary William Hague described the shooting of Pakistan's Minorities Minister Shahbaz Bhatti as "cowardly".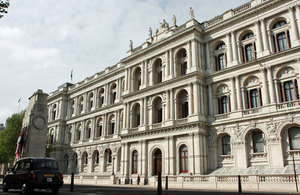 The Foreign Secretary said:
"I am appalled by the assassination of Shahbaz Bhatti, the Pakistani Minister for Minorities, in Islamabad this morning. This was a cowardly attack on a democratically elected Government Minister and an attempt by extremists to silence free speech and debate in one of the world's largest democracies. I utterly condemn the actions of these extremists, which fly in the face of the courageous fight for democratic rights and justice being waged in other parts of the Islamic world. Mr Bhatti's death is a tragic loss for Pakistan, and for all people who believe in human rights and freedom of speech. I would like to extend my deepest sympathies to Mr Bhatti's family."
In addition, Minister for South Asia Alistair Burt said:
"The assassination of Shahbaz Bhatti marks a new low point in Pakistan's struggle against violent religious extremism. Shahbaz Bhatti was a powerful voice against extremism and a fearless voice for tolerance and respect for minorities. His death is a tragic loss for Pakistan.
We condemn this shocking attack, and my thoughts and prayers are with his family and friends.
I had met Minister Bhatti on a number of occasions, as a fellow Minister and believer in the rights of minorities. I supported my friend in his difficult role, and in his attempt to revise his country's Blasphemy laws. Those laws had been abused to target minorities, and Minister Bhatti's courage in urging peaceful, moderate change, had been met with violence. All moderate people of all faiths should unite and condemn this act, and work together to end the violent extremism which demeans us all.
This is not only an attack on a dedicated Government Minister but on the people of Pakistan and their future. The UK will continue to work with the leaders of Pakistan and its people, who deserve a stable, democratic and prosperous future, where violence and intimidation is not allowed to threaten freedom of speech and proper democratic debate."
Published 2 March 2011