Foreign Secretary answers questions about UK/Asia on Twitter
William Hague has answered questions posted by audiences on Twitter during his first visit to the Far East as Foreign Secretary.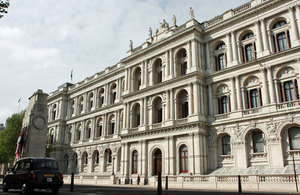 The Foreign Secretary was asked a series of questions about the global economy, UK policy on Asia, trade, transport, immigration, North Korea and South Korea, human rights and international aid.
Read the questions to the Foreign Secretary below, along with the answers he gave on Twitter.
@KaTe_Bush #fsinasia What is most important issue between UK and Japan?
@kate_bush No one single issue. We work together on trade, climate change, security, non-proliferation and development
@izumillion The no. of immigrants to Japan is expected to increase. What should Japan learn from UK to avoid immigration issues? #fsinasia
@izumillion Managing migration well is essential for any country. Identify what skills you need and have a clear and fair system.#fsinasia
@a_broadhurst Why are many good British foods are disappearing from shelves? Please promote British products, especially tea! #fsinasia
@a_broadhurst Promoting British products is a key part of our trade with Japan -I'm glad you like our tea! #fsinasia
@tatsuya_sakura I'm looking forward to seeing Shinkansen running in the UK, railway's home country. Will the programme be resumed? #fsinasia
@tasuya_sakura Introduction of high speed rail is important for Britian's economic future and we are considering how to do it. #fsinasia
@mayyume Public Sector Spending Challenge is good challenge. What do you think about Japan foreign policy? #fsinasia
@mayyume Japan is committed to Afghanistan, tackling climate change, nuclear disarmament, development -close to our objectives.
@TradeFinance Many countries are asking exporters to focus on Asia to create jobs at home- what competitive edge does UK have? #fsinasia
@TradeFinance UK is a leader in innovation, has most open, business-orientated economy in Europe and strong pro-trade government. #fsinasia
@Usacruise #fsinasia Do you know anything about Japanese songs or singers?
@Usacruise J-POP is known in the UK, and I know Hikaru Utada had live performances in London this year. #fsinasia
@Rosie_Mitchell What impact, if any, will new UK foreign policy have on UK nationals living in Japan? #fsinasia
@Rosie_MitchellYou will see a reinvigorated UK/Japan relationship, hopefully with more business opportunities. #fsinasia
@zulfi_hydari @foreignoffice How does @WilliamJHague propose to increase trade with Asia and how will it improve Britain's financial position #fsinasia
@zulfi_hydari We need growth. By building relations with Asia - the world's fastest growing region - we'll create opportunities. #fsinasia
@glyn_curtis How can the UK assist in easing tensions between North and South Korea? #fsinasia
@glyn_curtis We stand by our allies. North Korea must not further escalate tensions and should return to negotiations. #fsinasia
@CSWPress Will @WilliamJHague be pressing the MFA for info on the status of missing Christian HR lawyer Gao Zhisheng? #fsinasia #China
@CSWPress I raised this as part of case list handed to Chinese authorities during my visit. #fsinasia
@mattbjones Given recent improvements for house churches, will @WilliamJHague encourage China to further safeguard religious freedom for all? #fsinasia
@mattbjones Religious freedom is a key part of human rights. We have a human rights dialogue with China. #fsinasia
@WeAreChinthe What is your vision for Burma? What is Britain going to do achieve this? #fsinasia
@WeAreChinthe We're pushing for change in #Burma op political prisoners and human rights with global partners. #fsinasia
@mrmgoo Why are we giving money to countries like India & Pakistan? When we have no money ourselves
@mrmgoo Delivered well, aid is great value for money. 25,000 children die from preventable diseases a day. #fsinasia
@AutumnStJohn Will the Government be strengthening economic ties with Malaysia & the Middle East? #fsinasia
@AutumnStJohn Yes we will be strengthening ties with Malaysia and the Gulf. I travel tonight from Japan to Oman. #fsinasia
Published 16 July 2010