Foreign Secretary announces UN Security Council debate on Sudan
Foreign Secretary William Hague announces Sudan as "highest priority" for the UK's Presidency of the UN Security Council this month.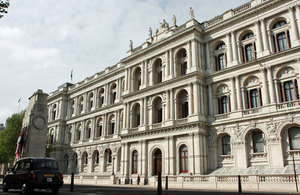 In a statement the Foreign Secretary said:
"I welcome the start of the UK's Presidency of the UN Security Council which we hold for the month of November.
Our highest priority will be Sudan. On 16 November I will chair a Security Council debate on Sudan. It will focus on the importance of peaceful and credible referenda in January 2011 and progress on the political, humanitarian and security situation in Darfur.
We will use our Presidency to push for timely completion of the Comprehensive Peace Agreement, giving strong support to the efforts of President Mbeki and the African Union. We will maintain the Security Council's focus on Darfur and reinforce the importance of a lasting and inclusive peace settlement for the Darfuri people.
The UK will chair two other debates during this month on counter-terrorism and the protection of civilians. These will be forward-looking sessions to identify future challenges and global responses to an evolving threat.
The Council will hear updates on progress toward a settlement in Cyprus and in the Western Sahara. We also hope to discuss the situation in Burma/Myanmar following elections scheduled for 7 November.
The Council will also hold regular discussion of situations in the Middle East, Lebanon, Kosovo and Bosnia; and hear latest reports on Iraq and sanctions regimes in DPRK and Somalia."
Published 2 November 2010